It's been a while since I posted my Random Thoughts as we were on a long road trip last week.  Here it goes: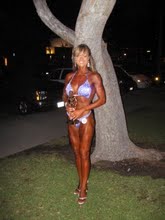 1-      There is a picture of my lovely wife in Rachel Cosgrove's new book, The Female Body Breakthrough: The Revolutionary Strength-Training Plan for Losing Fat and Getting the Body You Want.  Awesome for Hillary to get her picture in a book and also to get a little publicity for what she accomplished.  It was simply amazing to watch someone so close to me be so dedicated, disciplined, and also get outstanding results.  Also, congrats to Rachel on the release of this book. Rachel doesn an unbelievable job and was the first trainer I thought of when I referred her to Hillary.
2-      Great study in the November Journal of Strength and Conditioning Research- Training Effects of Endurance Capacity In Maximal Intermittent Exercise: Comparison Between Continuous and Interval Training- page 2405.   I really like this study because this is what hockey is- intermittent exercise.  The end result of the study showed that continuous aerobic training had "little effect" on "high power endurance capacity in maximal intermittent exercise".  Interval training increased both maximal anaerobic power and "fatigability".
3-      I started to upload some of the videos that I have taken over the last couple of years on to my Youtube page.  Check them out at SeanSkahan.  Also, I will be uploading more whenever I take more video.  Here is a video of a T-Spine Mobility exercise.  I got this one from one of Michol Dalcourt's video.  What I really like about it is that the feet are on the ground and that because of the crossover foot, there is minimal lumbar spine movement.  T-Spine mobility is something that we are always trying to improve with our guys.