When: March 25, 4:30pm
Where: Tria Rink, 400 Wabasha St N, Saint Paul, Minnesota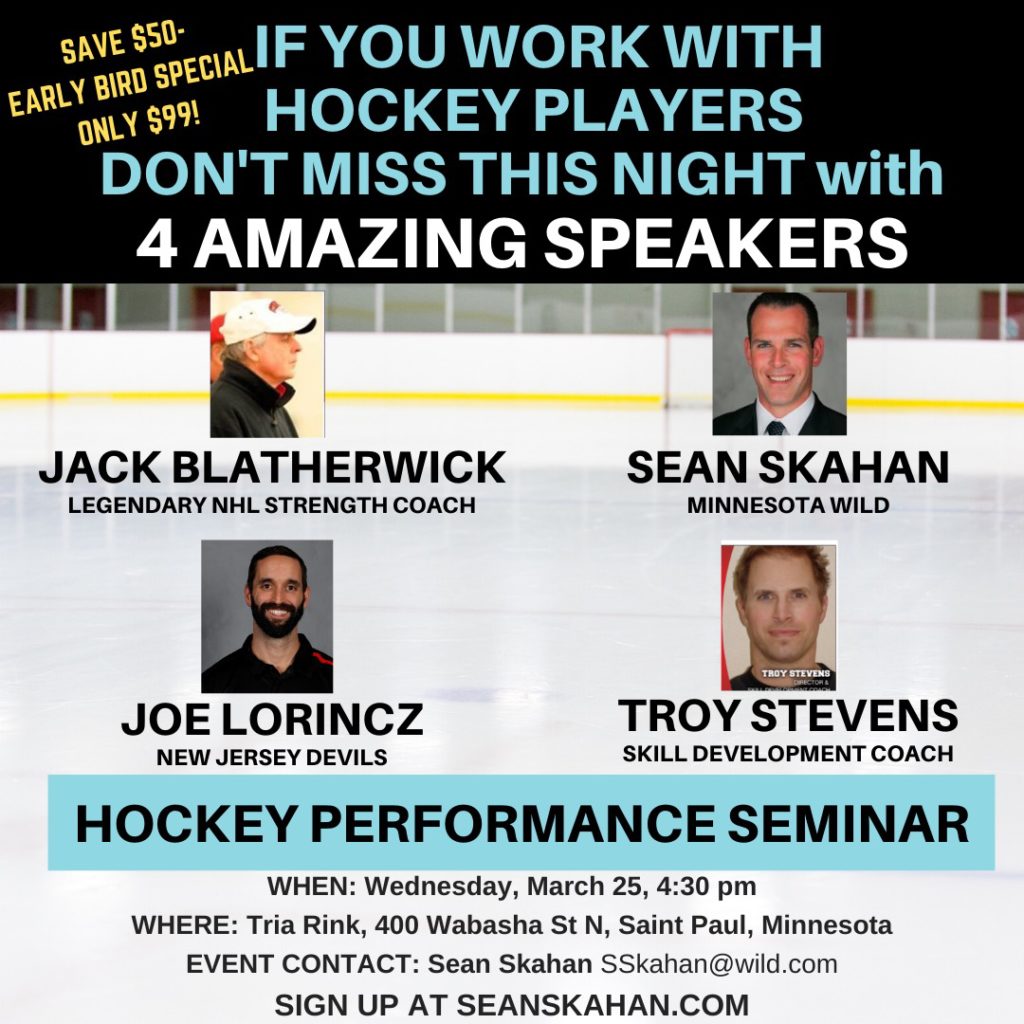 4:15- Registration
4:45- Introduction
5:00- Sean Skahan- Coaching the Injured Hockey Player
5:55- Troy Stevens- Practice Design: Blending Skills, Concepts, and Problem Solving
6:50- Joe Lorincz- Testing and Evaluating in a Team Setting
7:45- Jack Blatherwick- Training Priorities: Adolescents vs College and Adult Athletes
8:45- Roundtable/Open Q+A
Early Bird Special, Only $99
Sean Skahan, Minnesota Wild
NHL Strength and Conditioning Coach Sean Skahan will discuss how he creates programs for injured players and how he progresses them through return to play protocols. He will also discuss as you can help your injured athletes.
Troy Stevens, Pro Skating and Skills Development
Troy is a well-known skating coach who will discuss Practice Design. More specifically, how to blend skills, concepts, and problem solving.
Joe Lorincz, New Jersey Devils
NHL Strength and Conditioning Coach Joe Lorincz will discuss the physical testing and evaluation process for hockey players. Joe will expand upon testing and evaluation for identifying for talent versus the purpose of testing enhancing performance and monitoring.
Jack Blatherwick, Exercise Physiologist/Coach
"Cardiac" Jack will discuss the different priorities for children and adolescents compared to college and adult athletes.
Hockey Performance Seminar
Early Bird Special, Only $99!
Goes up March 1st to $150
Questions? Contact Sean at SSkahan@Wild.com