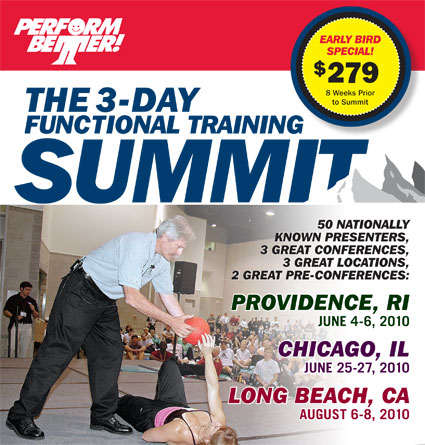 This past weekend, I attended the Perform Better Functional Training Summit in Providence Rhode Island.  I believe this one was my 5th or 6th Summit that I have attended.  I really think that year to year, Chris Poirier and his staff do a great job putting together great educational opportunities.  In my opinion, the 2010 Rhode Island Summit may have been one of the best.
I think the best way to judge if a seminar was really good or not is by reflecting on how much knowledge you learned and more importantly, where you can make some adjustments in your programs.  I don't think that it's a good idea to just learn a new exercise and throw it in somewhere without any reason to do so.  However, if I can learn a new progression, or sometimes a regression that makes sense and can help my athletes get better, I am all for it.  Here are some highlights of who I saw speak and what I took away from the presentations during Day 1:
Steve Cotter- Steve is a Kettle bell guy who walks the walk and talks the talk.  Steve came up to Anaheim for a 3 hour practical where I learned how to teach the kettle bell lifts such as the Swing (double and single arm), Snatch, Clean, and Clean and Jerk.  Steve pretty much went over those lifts to a crowd of over 100 people.  Some good information that I was reminded of and took away includes:
–       Starting the swing or snatch with your hand in a neutral position (as opposed to overhand) and also some techniques to avoid ripping your hands apart when doing multiple reps.
–       Steve advocates competition style kettle bell lifting where he does reps up into the 100's.
Mike Boyle- Mike gave his presentation on the joint by joint approach to warm up. Although I think I may have seen this before, I really enjoy seeing Mike present live.  He is really funny and isn't afraid to say what's on his mind.  Some of the things that I picked up include:
–       I need to do more hip internal rotation with my athletes
–       Hip and Thoracic spine mobility are key.  (Sue Falsone gave a talk on T-spine mobility which I will review later)
–       Mike does a good job of incorporating some of the tri-planar movements into his warm up.  I like the progression and it is something that I have done with my athletes but have gotten away from.  We need to do more of that.
Fraser Quelch- This was the first time that I have seen Fraser speak.  He did a great job.  Some of the things I took away from it include:
–       "Balance is the ability to control the position that we are in".  That quote kind of stuck to me.
–       The plank is a reactive exercise to gravity.
Al Vermeil- Al is the best, period.  I love seeing him speak as his passion for training is really noticeable during his talks.  Some great information that I got from Al:
–       Ankle, Knee, and Hip (triple) extension is the most important thing in sport
–       Coaches must keep training.  You must be able to do what you are asking your athletes to do.
–       Look at training programs like you would at investing money
–       Never get too far away from speed work
–       Ask yourself- "Am I doing a good job, or is there something I can do better?"
John Berardi- John gave a great talk on nutrition for injury recovery.  This was a good talk for me to see I it really opened up my eyes to the importance of nutrition during the recovery process.
–       For fat loss, John recommends 1 gram per percent of body fat on a daily basis for the first 2 weeks
–       Most everyone is deficient in Vitamin D
–       Fish Oil and Flax Seed are not the same.  John recommends taking both.
–       Eating fish on a regular basis isn't the same as taking fish oil supplements.
Thomas Plummer- Thomas Plummer is a great presenter.  He really gives a kick in the butt to all of the attendees.  This year, Thomas profiled some of the people who were speaking at the Summit including Boyle, Cook, Alwyn Cosgrove, Rachel Cosgrove, Todd Durkin, and Chris Poirier.  He outlined what makes these people successful and why they are considered to be at the top of our profession.  It was really inspiring for me as I have lots of respect for all of them as professionals.  Here are some other tidbits I took from Thom's talk:
–       Thom believes that every 4 months, you should project your life 3 years.  What does my work/life mean?  How much money am I making?  Where do I live?
–       One on one training is in-effective in making money and running your business successfully
–       Some of the quotes that I liked in the talk from some of the professional who were profiled include:  "It's not what you know; it's what you can get someone else to do."- Boyle.  "Listen, practice, study, and apply- again and again- then talk."- Cook.  "Dedication and hard work will get you some sort of success; however caring will get you happiness."- Poirier
The first day was great.  I really picked up a lot of information that I can use with my athletes now.  Day 2 and 3 of the Summit were just as good.  I will review the rest of the Summit in a few days.  Thanks for reading.