I was actually hesitant to post this but ended up thinking "what the heck". The reality is that I am sometimes guilty of caring what people may think.  Some may think "who is this guy who is writing about mentors and stuff", or "who gives a s#%t who his mentors are?"  Anyways, if you are at least reading the blog, I know that some of you are friends or maybe you are at least a little interested.
Most of the people that I am going to talk about are coaches who are or have been coaching or teaching in the trenches.  That really means a lot to me.  Although some of them do have an internet presence, some of them don't.  That doesn't mean that they aren't phenomenal at what they do.
I was recently inspired to write this by 2 recent blog posts/articles that are currently on the internet.   The first is What it Means to be a Boyle Guy by Kevin Neeld.  Obviously if you know me, given by the title of my post, you know there is a really good chance that I will talk about Mike.  However for another look at Mike's impact on another coach, check out Kevin's article.  The second article that helped inspire me to write this is Your Life and Lifting Goals by Dan John.  This is just another Dan John article.  I say that seriously because all of Dan's articles are gold.  It is an outstanding piece.  In the article, Dan talks about a mentor of his by the name of Dick Notmeyer who impacted Dan early on in his lifting career.
This post is about some of the people who have made an impact on me professionally in a positive manner.  Of course, I would like to mention my parents, my wife Hillary, or even my uncle Bill who bought me my first weight set- you know the plastic grey ones that were filled with sand. Or, I could easily mention all of the coaches (primarily hockey coaches over the past 11 year) who have influenced me. However, this is about strength and conditioning professionals for now.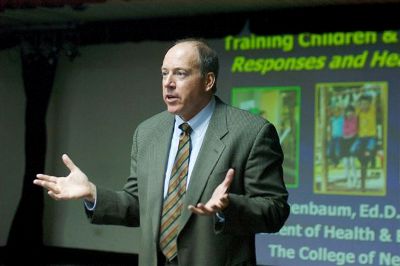 Avery Faigenbaum Dr. Faigenbaum is currently a Health and Exercise Science Professor at the College of New Jersey.  He was one of my exercise science professors at the University of Massachusetts at Boston back in 2006.  Back then, the exercise science curriculum at UMB was only geared towards the ACSM health fitness instructor track.  There was also an Athletic Training/Sports Medicine track in which I was a part of for a semester or so.  That is when Avery came in as a professor at UMB.  What he brought to the Exercise Science department was a new concentration called "Strength and Conditioning".  As a result, I eventually switched to the Exercise Science track.  Since I was currently playing football at UMB, it would have been extremely difficult for me to accumulate all of the clinical hours that were required for the athletic training track.  I figured that since I liked to lift weights and train for football, it would be pretty awesome if I could make a career out of it.  It was Avery that really made learning about this stuff fun.  He is really passionate about the field and he actually got me pretty fired up to do well in his classes.
When it was time to apply for my senior year internship, there were 4 schools that strength and conditioning majors could apply to for internships.  I applied at Boston University.  Although I was intrigued by the thought of interning at Boston College, which is the only Division 1-A football program in Boston, I still applied at Boston University because of the next person that I am going to talk about.
Mike Boyle
I applied at BU because I recognized the name of the contact person on the list of available schools.  In my mind, Mike was the guy who worked with Cam Neely to help him get back on the ice after he suffered a career threatening injury.  I can remember reading about Neely's rehab in the Boston Herald or seeing some stuff on the TV when he was working out with Mike and thinking that what Mike was doing would be a cool job.  Cam Neely's knee and hip were big news in the Boston sporting news back then.  I really didn't know what Mike's role was in the actual process, but I knew that he was doing something that I wanted to do.
(Side note- I consider myself very fortunate because I actually do get to do that now.)
I actually never interned for Mike at BU.  I interned for Glenn Harris who is the Director of Strength and Conditioning and is also someone who taught me a lot about coaching.  I did get to intern for Mike at Sports Acceleration North during the summer of 1998 right after I graduated from UMass Boston.  I don't think the present system at MBSC is much different from what it was back then.  We coached day and night for 4 days per week.  It was non-stop coaching and it was a blast.  I can't tell you how valuable that experience was for me.   You learn very quickly in that environment.  We had different types of athletes who came in on a daily basis ranging from the NHL players in the am to the hundreds of high school kids who played all different kinds of sports all throughout the day.
What's interesting about the whole Sports Acceleration experience (now MBSC) was that there were other interns who were starting out there as well.  Mike Potenza, who is currently the San Jose Sharks Strength and Conditioning Coach, was also an intern, as well as Darryl Nelson, who is the Strength and Conditioning Coach for the USA Hockey National Development Program.
I owe Mike a lot when I look at my strength and conditioning career so far.  With Mike it is usually "Do this, not that" when it comes to advice from him.  I can still remember a story about Mike vividly.  During the summer of my internship, I also played on a staff basketball team that was in a league after work hours at the same facility.  When I first started coaching that summer, I was a really quiet and shy person when it came to being a coach. Maybe I was a little overwhelmed or even intimidated by some of the athletes.   However, I was a pretty aggressive basketball player who always competed even though I probably wasn't very good.  Mike said to me one day "I want you to coach like you play basketball".  I must say that it kind of clicked after that.   I got what he meant and as a result, I was a more confident coach.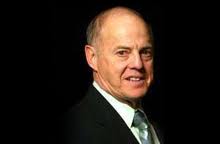 Al Vermeil- To me, Al Vermeil is the ultimate Strength and Conditioning Coach.  Al was the strength and Conditioning Coach for the Chicago Bulls during the Jordan era and he was also the Strength and Conditioning Coach for the San Francisco 49ers in the early 1980's.  He has several NBA championship rings and 1 Superbowl championship ring I believe.
When I was an assistant Strength and Conditioning Coach at Boston College, our staff brought in Al for a 1-day seminar on strength and conditioning principles.   Through his speaking, his passion for teaching and the field was contagious.  I remember during that day, I had a hockey player come in and do a lift that he missed the previous day.  I asked Al if he wanted to coach him up.  Al was more than willing.  Before you know it Al had his sleeves rolled up and was on the platform coaching the player in the hang clean.  His coaching and energy was inspiring.
After our seminar, Al was someone who I always stayed in touch with.  It wasn't uncommon for me to be on the phone with him for at least 45 minute or so asking questions.  I can also remember him sending me his 300+ page training manual which I still look at today.
I think what I will always remember about Al  though is that on the night that the Anaheim Ducks won the Stanley Cup in 2007, there was a message on my office phone voicemail from Al .  In the message, Al sang "We are the Champions" by Queen.  You really can't make that up.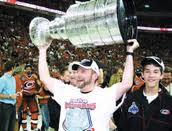 Pete Friesen For those that don't know, Pete is the Athletic Trainer/Strength and Conditioning Coach for the Carolina Hurricanes.  Like those above, he is also a great person.  When I made it a goal of mine to work as a Strength and Conditioning Coach in the NHL, I would always some people in those positions.  Pete was always one of the guys to get back to me.  In fact, I still have those emails saved in a folder on my Hotmail account.  He was one of the first people to introduce me to the FMS and foam rollers.
Pete is a lifelong learner and he is also an outstanding presenter who brings energy in everything that he does.  I was absolutely honored and humbled to be able to introduce him to the attendants at the BSMPG seminar this year.
What Pete does really well is that he gets his guys to buy in.  In fact, I heard him take the Hurricanes through a core/warm up routine before practice one day.  I say hear because our weightroom is immediately next door to the visiting team's locker room.  You could feel Pete's' enthusiasm for what he does coming through the wall.  What I also respect about Pete is that he has been doing this for a long time as he worked with the Hartford Whalers before the franchise moved to Raleigh NC.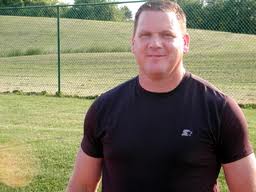 Dan John Lots of people are Dan John fans these days and rightfully so.  For me, not only as a coach but as a person who is trying my best at not being skinny-fat, Dan John has been instrumental.  I've been reading Dan's stuff for a few years now on T-Nation and at DanJohn.net.  There is something about his writing that makes it seem like he is sitting right next to you.  For me though, it was at the RKC where I really got to get more of Dan.  Dan was my team leader who made the entire 3-day weekend an unbelievable experience.
When I look at the above list, what is most common is that they are all great people.  They get it.  I'm not sure if I know exactly what "it" is yet, but I am certain that they have it.
One thing about me is that I am not a big fan of big-timers.  You know who they are, the guys or girls who act like they haven't met you before or they have no time for you.  You will never get big-timed by any of these guys.  They get to know your name and get to know you as a person.  To me, that is worth so much more than how a person's success is perceived to be.
What is also common about all of them is their passion for what they do.  Each person's energy and enthusiasm is visible when you around them.  They inspire you to be a better person and strength and conditioning coach.
Another reason why I think this article came to me was that there are actually young people looking to intern for me or work at our annual prospect camps.  Maybe I am at a stage in the career of a Strength and Conditioning Coach or something.  All I know is that I hope to be the best person that I can be and not big-time anyone ever (If you think I have in the past, I apologize).
I must say that there are several others that deserve honorable mention.  Glenn Harris, Paul Chapman, Mike Poidomani, Chris Doyle, Todd Wright, Cal Dietz, Robert Dos Remedios, Charlie Weingroff, and Pavel Tsatsouline are all coaches that I truly respect and I am very thankful to them for taking the time to teach me.